Quinoa and Edamame Salad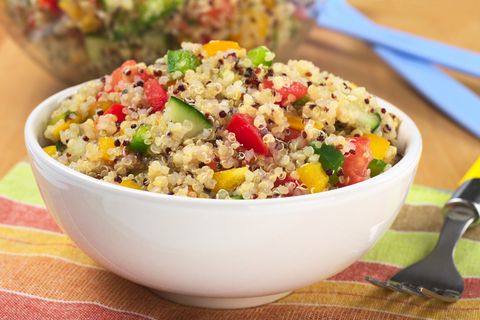 Author:
Vineyard Nutrition
Prep time:
Cook time:
Total time:
A healthy, flavorful salad, great for a light summer entree.
Ingredients
1 cup quinoa, dry
10oz package edamame, frozen, shelled (about 2 cups)
1 cup fresh mango (or frozen mango, thawed)
1 red bell pepper, diced
1 cup cucumber, diced
1 cup cherry tomatoes, halved
¼ cup olive oil
¼ teaspoon salt
Ground pepper, to taste
2 cups water
8 cups mixed salad greens (including spinach, arugula, lettuce)
Balsamic vinegar or low sodium salad dressing (optional)
Instructions
Bring water to boil in medium covered pot
Add quinoa, bring back to a boil. Once boiling, cover, reduce heat to simmer, and cook for 20 minutes
In another pot, prepare edamame as directed on the bag
Dice pepper, cucumber, cherry tomatoes, mango
In a large bowl, combine olive oil, salt, pepper, mango, edamame, bell pepper, cucumber, tomatoes, and mix
Slowly stir in the quinoa. Serve over bed of mixed salad greens. Can be served hot or cold, can be served with balsamic vinegar or low sodium salad dressing.
Nutrition Information
Serving size:
4
Calories:
427
Fat:
19.9g
Saturated fat:
4.9g
Carbohydrates:
48.4g
Sugar:
9.65g
Fiber:
10.2g
Protein:
16.2g